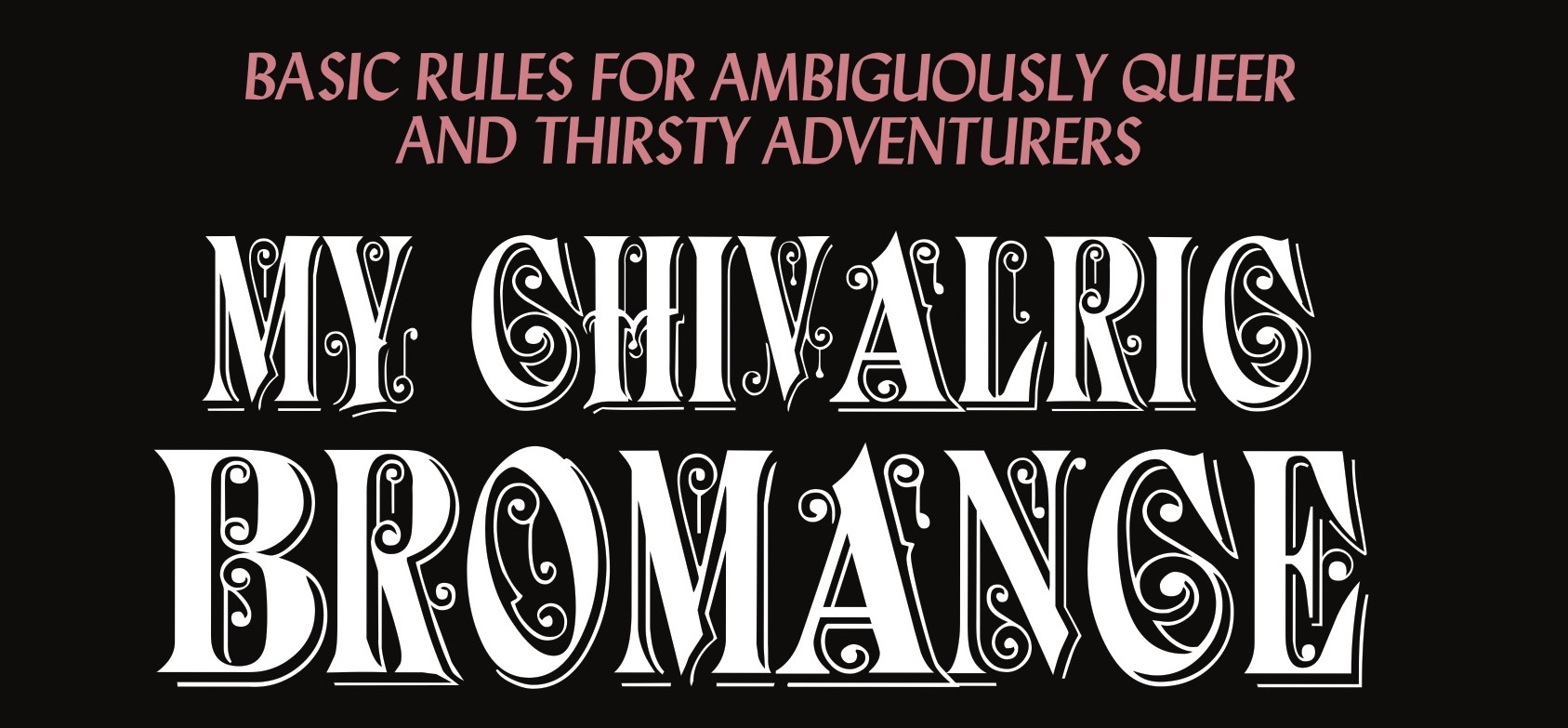 My Chivalric Bromance
A downloadable Queer & Thirsty TTRPG
My Chivalric Bromance is a game about queer and thirsty knights and their companions, outlawed, exiled, and banished to wander as strangers in strange lands. This book includes the core rules for an old-school-style game of exiles wandering the world and having adventures.
Buy the PDF now here or on DriveThruRPG! Print copies coming soon to Exalted Funeral.
Unsure? View the free demo of the character creation rules below.
---
Pick a class, answer some questions, choose your Thirst Alignment, and you're ready to go!

Designed for a game master and 1-6 players
Simple character creation with two classes with tag-based character abilities
Characters of any race, ethnicity, gender, or sexuality welcome
Easy-to-run Lumen-inspired core rules for players
Quick GM procedures for morale, reaction, and random encounters
Simple rules for converting OSR and D&D adventures
Brief details on two sample lands of exile: The County of Greef and the Grand Duchy of Varly
A short bestiary with OSR-style opponent stats
Four sample treasures of the Exile Lands
Written by Richard Ruane and edited by Scott Smith. Cover and interior design and illustration by Eric Swanson and cartography by Brian Yaksha. R. Rook licensed the cover image from Tony Marturano via Adobe Stock.
---
What You Need to Play
Players need some paper, a pencil, and several d6s.
GMs need pencils, paper, 2d6, maps, and an adventure (two lands of exile and a bestiary are provided).
Purchase
In order to download this Queer & Thirsty TTRPG you must purchase it at or above the minimum price of $7.50 USD. You will get access to the following files:
My Chivalric Bromance
6 MB
My Chivalric Bromance (Google Doc)
External
Rewards, Reviewers, and Community Copies
Support this Queer & Thirsty TTRPG at or above a special price point to receive something exclusive.
Press & Review Copies
Are you a reviewer considering reviewing this game on your blog, podcast, or other media? Please pick up a free review copy and download the Press Kit from the free files listed below.
If you review this game, please drop a link to your review in the comments here.

Community Copy

Reserved PDF copies! These PDF copies are for students, supporters from marginalized communities, and those experiencing financial hardship. If you self-identify in one or more of those categories and need the discount, feel free to choose this level. These initial community copies were funded by our Kickstarter backers.
Download demo
Comments
Log in with itch.io to leave a comment.
There are lots of things going on here that I really like. I love the safety tools. I love how inclusive this game is. I love the thirst mechanic-- which can be exactly as chaste or hungry as you want it. It's like if all of my favourite parts of queer culture and old school games started grinding on each other and I'm here for it.