Moonlight on Roseville Beach | A Visitor's Guide to Cruisin!
A downloadable Quickstart & Demokit
If you like this free quickstart, pick up the PDF and ePub.


Quickstart Your Queer Game of Disco & Cosmic Horror
Head west on Rose Island and you get to the pricey summertime communities like Saltwinne, Destiny Bay, or Dunewood. Head east and you'll find exclusive resort towns like Pinewood Harbor, Charmington, and Sunken Oak. But those city kids and artists looking to get away for a long weekend, they're heading right out to the middle of the island for that old gaycation getaway: Roseville Beach.
Crowdfunded in November 2021, Moonlight on Roseville Beach is an LGBTQ+ tabletop roleplaying game of protecting your community from monstrous cosmic horrors in a queer beach town in 1979. And now, there's a free quickstart and demo kit: Moonlight on Roseville Beach: A Visitor's Guide to Cruisin'!
What's This About?
You play the amateur sleuths protecting this 1979 queer beach town from cosmic horrors, vindictive necromancers, fantastical beasts, and conservative politicians. The quickstart includes a short introduction to Roseville Beach, including several of the most popular locations in the full game.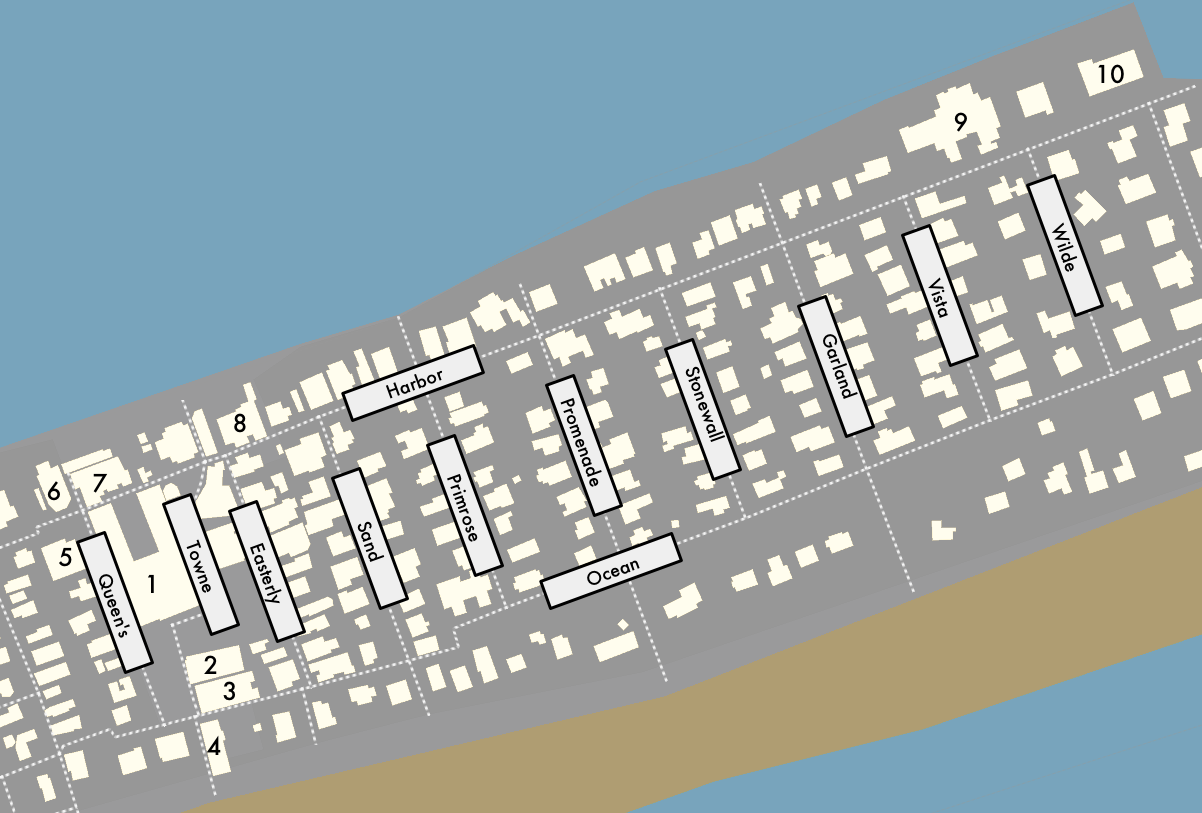 Quickstart Character Creation
Everyone comes to Roseville Beach from somewhere. You might be a fresh-faced newbie not just to the LGBTQ+ world but also to everything supernatural. You may have a scandal in your recent past that's driven you to take up residence on Roseville Beach for a summer. Or you might have deep connections to the supernatural world with your own magic or supernatural powers.
The quick start includes four origin stories for characters to use: the fresh face, the scandalous, the shifter, and the witch.
But your character isn't just where the came from: they've also moved to Roseville Beach and taken a job!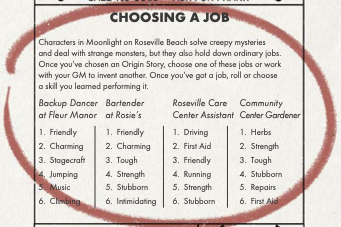 In the quickstart, jobs on Roseville Beach include bartender, backup dancer, care center assistant, and gardener.
Of course, your character also has troubles, allies, comforts, and even strange events that shape who they are and why they've become local heroes. There's more in the quickstart, of course, and new jobs and origin stories in the full book, which you can preview or preorder.

Quickstart Rules of Play
Inspired by games such as Psi*Run and Goblinville Gazette, Roseville Beach uses a simple d6 pool system that allows players to choose whether they succeed, when they face consequences, and if they find clues. If rolls go poorly, there's even an option for bringing in a bonus die.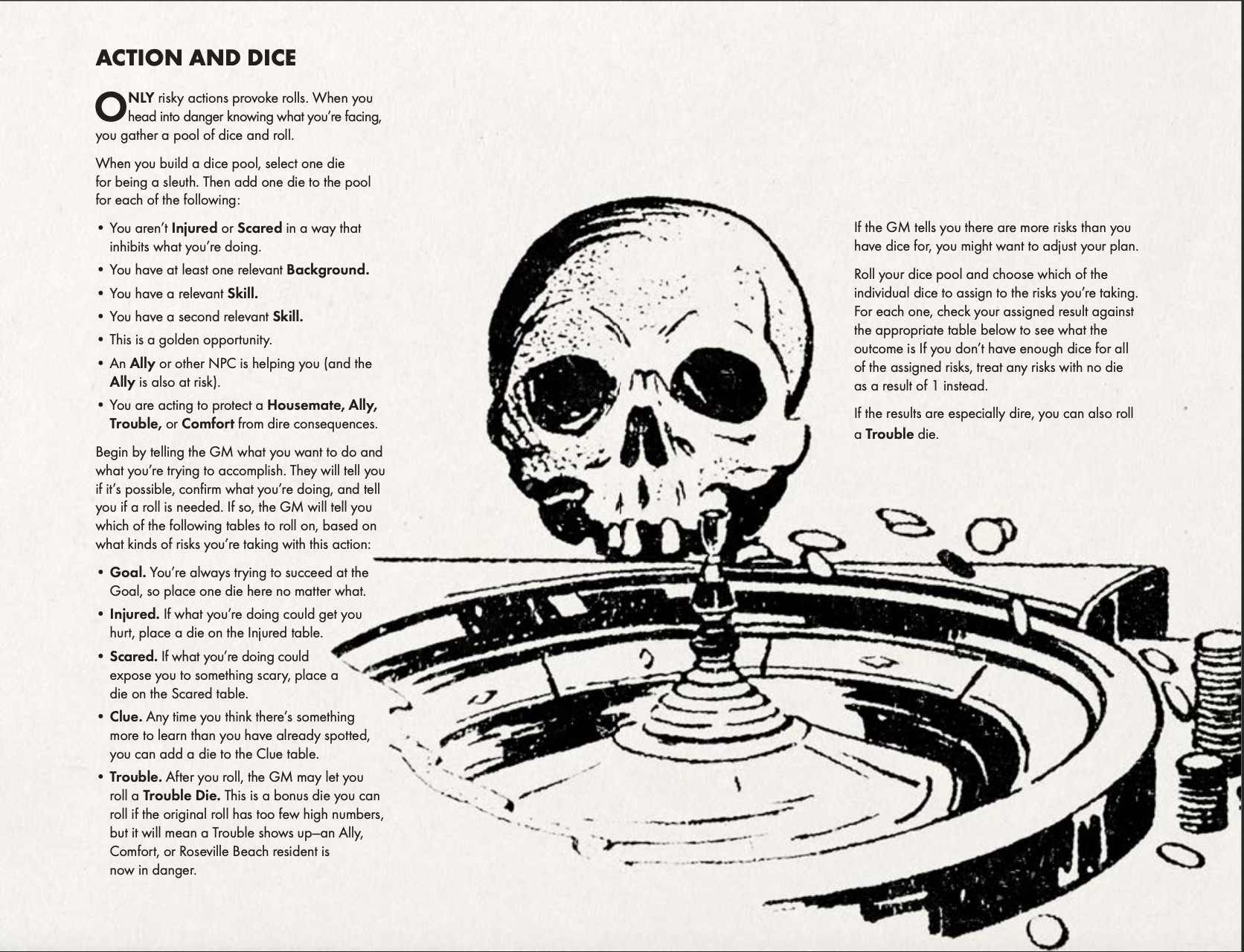 Additional rules to help GMs run the game are available in the full book, which you can preview or preorder.
A Quickstart Mystery!
The quickstart even includes a sample mystery: The Haunting of Flora Bly! When a local drag queen's act is interrupted by strange phantoms only she can see, is it her overactive imagination, or something more sinister? And, of course, there are even more mysteries available in the the full book, which you can preview or preorder.
And It's Free?
Moonlight on Roseville Beach: A Visitor's Guide to Cruisin is free to download and use and is a great introduction to the game or supplementary book for players who aren't ready to buy the full book yet. It's available as a fully laid out PDF or as a text-only Google Doc or ePub. You can get the full game here or on Itch, order a physical book from Indie Press Revolution or Spear Witch, and can also pick up the Visitor's Guide to Cruisin! on DriveThruRPG.
Download
Click download now to get access to the following files:
Moonlight on Roseville Beach: A Visitor's Guide to Cruisin! (Quickstart PDF)
2 MB
Moonlight on Roseville Beach Quickstart (Google Doc)
External
Moonlight on Roseville Beach Quickstart (ePub)
894 kB
Moonlight on Roseville Beach Characters & Consent
External
Moonlight on Roseville Beach Playlist by Sam Leigh (Spotify)
External
Moonlight on Roseville Beach Playlist by Sam Leigh (YouTube)
External
The Free Quickstart & Demo Kit on DriveThruRPG
External
Character Sheet (Color)
External
Character Sheet (B&W)
External
Roseville Beach Safety & Calibration Worksheet
14 kB