Sherwood | A Game of Outlaws
A downloadable Tabletop RPG
Maybe you started as a Friar, a Sister, a Merchant, a Courtier, a Laborer, or a Knight, but eventually, you came to the woods as an outlaw.

You might have come for justice. You might have come for glory. Maybe you want revenge. Maybe you just have nowhere else to go. Now you're here, at home in the woods, fighting an endless war against the barons, the sheriff, and the king. You're an outlaw and stand outside society's norms.
Inspired by modern Robin Hood fantasies stories, the Robin of Sherwood television series, and the medieval outlaw ballads and romances, Sherwood is set in a fantastical version of 13th Century England.
Designed for a Game Master and 1-6 players

Quick core rules powered by a 2d6 system
Magical talents and rituals
Character creation inspired by games such as Enoch's Wake and Traveller
Make the outlaw you want to make: as an outlaw, you aren't constrained by society's biases about race, ethnicity, sex, sexuality, or gender
Opponent stats inspired by foes from the Robin Hood stories and other outlaw traditions
Two ready-to-run adventures for your band of outlaws
A 32-page zine. Purchase to preorder the digital version (PDF, ePub) or use the physical preorder button below to get the physical book. Purchase gives you access to the PDF, Google Doc, and ePub versions below.
Free Quickstart available below includes character creation, rules of play, and a sample adventure: see the demo files below!
Character Creation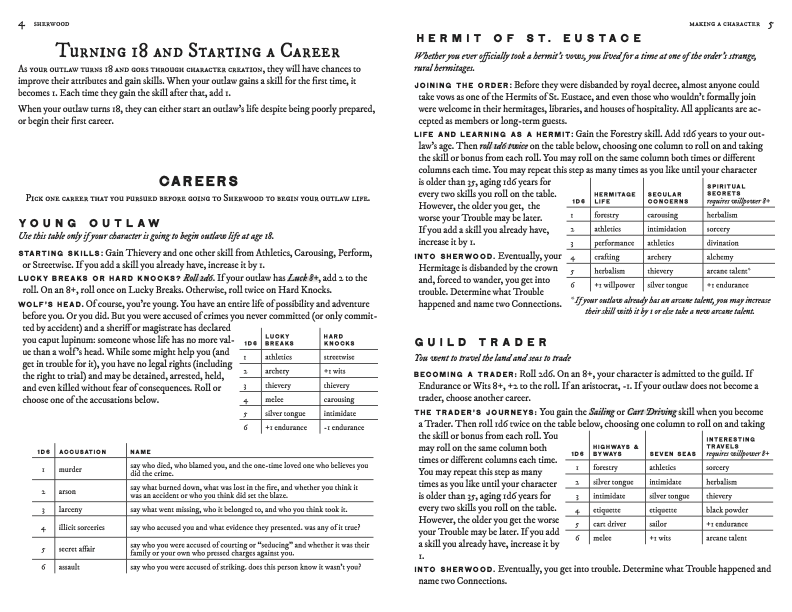 Before you became an outlaw—before everything went wrong—you had a life. Maybe you traveled with a company of merchants, wandered the roads as a performer, lived among the hermits, labored in the fields, or attended one of the lords of the realm. Sherwood character creation will help you determine what you did, what you learned (or failed to learn), and what ultimately drove you to join the outlaws. Check out the Quickstart for a preview of character creation!
Sample Adventures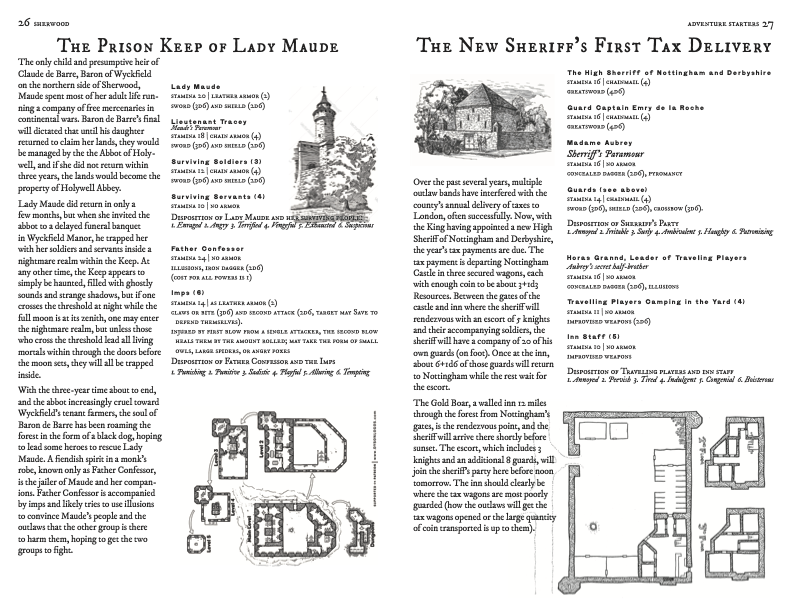 The full game includes two sample adventures. In "The New Sheriff's First Tax Delivery," a newly appointed Sheriff of Nottingham, escorting Nottinghamshire's taxes to London, rests for the night in a walled inn with his guards and paramour while a group of traveling players camp in the courtyard.
In "The Prison Keep of Lady Maude," the outlaws must determine why the ghost of a former Baron is haunting the woods and why a pious abbot forbids anyone from investigating the baron's missing daughter or entering the baron's castle until after it becomes part of his abbey.
Check out the first adventure in the Quickstart below! Both adventures laid out by Eric Swanson of Narrative Dynamics with cartography by Dyson Logos.
And Magic!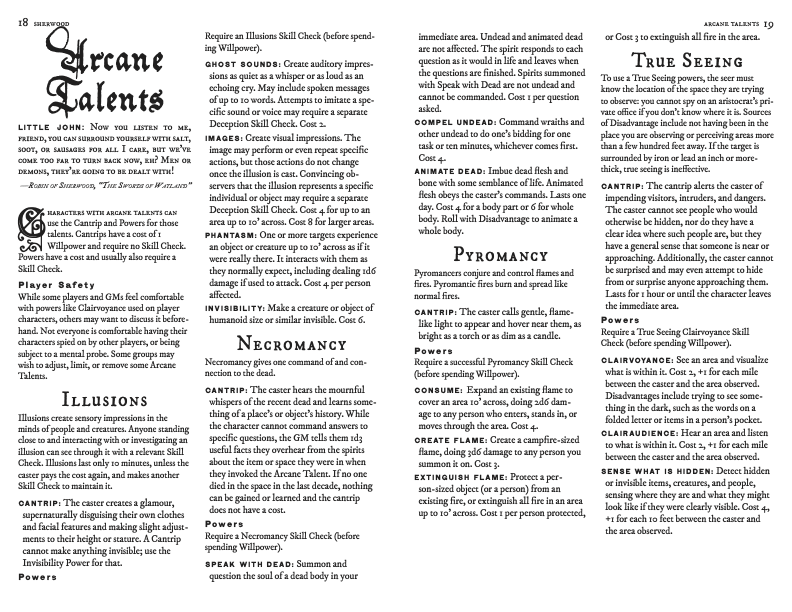 Like the pre-Robin outlaw romances, contemporary Robin Hood fantasies, and ITV's series Robin of Sherwood, these are magical outlaw tales. Magic in Sherwood takes two forms: Arcane Talents are innate abilities a person might be born with, including an affinity for illusions or necromancy, while Rituals are rites that PCs can perform to tell the future, share power among allies, or control the weather. You won't see the magic rules in the Quickstart below!
What They're Saying
Sherwood perfectly blends the classic and the contemporary. Its a modern system with an old-school feel. It's a familiar tale told through a fresh lens.
Justin Kahler, Sweaterpunk Studios, creator of Kunai Academy

Sherwood is an informative invitation into the centuries-old but still riveting tradition of outlaw tales.
John R. Harness, artist and designer

---
Project Status
Created as part of Zine Month 2022, Sherwood | A Game of Outlaws is currently in layout with Eric Swanson of Narrative Dynamics. Eric has done a draft layout on the interior (see below) and is currently lettering and illuminating the chapter headings (see three samples of his work to the right).
In October 2022, bookmarked and hyperlinked version of the print-ready PDF.
In November 2022, print copies at an RPG zine store you love.
Community Copies? Print Preorders? See the rewards section below for those options.
Free Preview? See the demo files below for the Free Quickstart in PDF and Google Doc format.
Purchase
In order to download this Tabletop RPG you must purchase it at or above the minimum price of $6 USD. You will get access to the following files:
Sherwood Interior Spreads - Draft 1 (pdf)
1 MB
Sherwood | A Game of Outlaws (Beta 3 - Google Doc)
Sherwood (Beta 3 Complete - ePub)
1 MB
Print & Discounted Copies
Support this Tabletop RPG at or above a special price point to receive something exclusive.
Reserved (Community) Digital Copies

Reserved PDF copies! These PDF copies are for students, supporters from marginalized communities, and those experiencing financial hardship. If you self-identify in one or more of those categories and need the discount, feel free to choose this level. These initial community copies were funded by our Kickstarter backers.
Print Copies (North America Only, US Shipping Included)
Get a print copy of the full book. US shipping included. Expected delivery in July 2022.
Download demo